About the Journal
Aquatic Ecosystem Health & Management is the official journal of the Aquatic Ecosystem Health and Management Society (AEHMS), published quarterly since 1998. It is a peer-reviewed primary journal devoted to the promotion of ecosystem-based science, approaches, health, management, and restoration of marine and freshwaters of the world.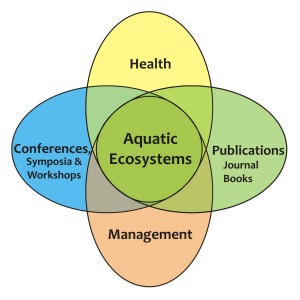 Objectives
to focus on ecosystem- based science (ecosystem approach), structure, function, performance, management and restoration in freshwater and marine disciplines from a multi-disciplinary, multi-trophic and sustainable perspective 
to encourage the development and application of holistic initiatives and novel concepts, methods, models and technologies
to enhance knowledge about the ecology and integrity of the Great Lakes of the world and large ecosystems  
to foster global and cross-sectorial communications concerning ecosystem management amongst scientists, managers, students, citizens, business, socio-economists, engineers, municipal agencies and politicians
to link environmental social sciences, society, economics
Scope
The journal publishes articles on the following themes and topics:
Original articles focusing on ecosystem-based sciences, ecosystem health, restoration  and management of marine and freshwater aquatic ecosystems
Reviews, invited perspectives and keynote contributions from conferences
Special issues on emerging topics, ecosystems, and themes
Themes and topics
Holistic and integrated ecosystem-based approaches including physical, chemical, biological, & eco-toxicological assessments from a sustainable perspective
Health, integrity, structure and performance of food webs (Microbial plankton, phytoplankton, zooplankton, benthos, fish and fisheries)
Bio-assessment, toxicityand pollution, remediation and restoration
International Agreements on water quality and ecosystem health between parties and countries
Environmental Outreach in society, public business, and governments
Ecosystem services, blue economy, models, & socio economics of aquatic ecosystems
Large ecosystems of the world (lakes, rivers, estuaries, wetlands, etc.)
Climate change, climatic events and disasters, invasive species, toxins, blooms/HABs, winter ecology

The journal is aimed towards scientists, academics, managers, engineers, lawyers, citizens, politicians, industry leaders, business people, and governments on the health and sustainability of global aquatic resources.
Ecosystem health is everybody's business.